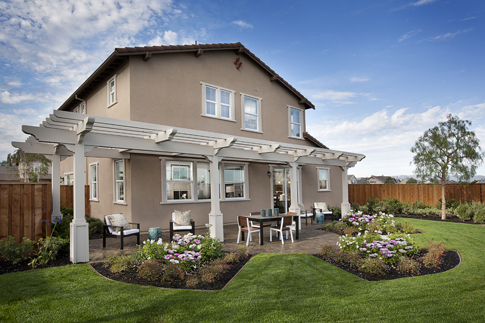 Summer's here and temperatures are rising! Now that the days are warm, it's important to keep the interior and exterior of your new home well maintained. From leaves and flowers to food and drinks, make sure you're cleaning off exposed surfaces so heat doesn't make unnecessary stains on your patio and furniture.
Tidy up the yard by pruning and trimming trees and shrubbery. This will make it look landscaped and ensure the longterm health and growth of your plants.
Keep the hot air out and cool air in by taking care of your AC. Not only will you help lengthen its lifecycle but you'll also keep it running more efficiently – for a cooler home and less energy costs. Change the  filters monthly and clean the buildup of dust and grime on the vents, this increases the air-quality and is crucial for those with allergies. Scheduling  annual AC checkups with a licensed technician will help avoid any bigger repair costs in the future and give you peace of mind.
Now's the time to check your windows. You'll want to make sure they're closing properly so you don't waste energy by trying to cool off the outside. Test the window sealants and look for any small openings along the bottom and sides. Lastly, double check the weather-stripping to make sure it's in good condition.
As always, it's important for safety to check your home's smoke and carbon monoxide detectors regulary throughout the year, but it's vital to check them during the summer due to the heat and dry conditions. Make sure batteries are fresh and that everything's in working order by testing your detectors.
With these summer maintenance tips, it should be smooth sailing all summer long.
To make sure you're always in the loop and up to date with everything happening in your community, be sure to Like the Ponderosa Facebook page.