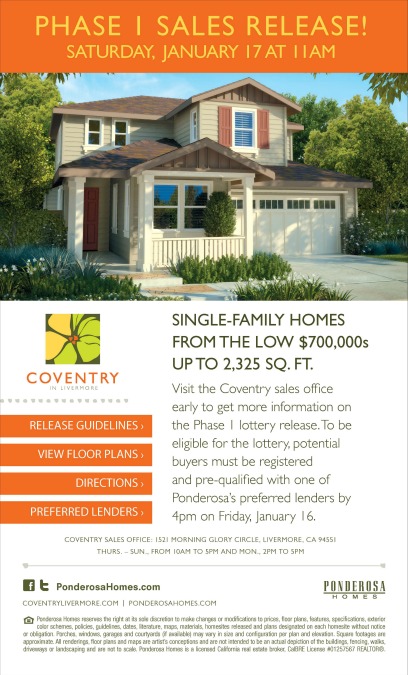 Coventry Phase I Sales Release – January 17, 2015 – Potential purchasers must be pre-qualified by 4pm on January 16, 2015 with one of Ponderosa Homes' preferred lenders to participate!
Phase I of Coventry in Livermore will be available for sale on Saturday, January 17. This first phase of homes will be sold by lottery on Saturday, January 17. Prices are expected to start in the low $700,000s. Lottery and sales release guidelines are available upon request.
Things you need to know to purchase in Phase I:
1. Preview the site map, floor plans and amenities online at: http://www.ponderosahomes.com/northern-california/coventry-livermore/.
2. Then contact one of Ponderosa's preferred lenders to get pre-qualified for financing or to have liquid cash assets verified for a cash purchase. Pre-qualification letters from outside lenders will not be accepted. Contact them early; do not wait until the last minute.
Omni Mortgage: Charlene Low at 800-719-9898 Toll Free Voice
Wells Fargo: Devoreaha (Devora) Smith at 877-868-0295 or Email at
3. Bring your pre-qualification letter to Coventry by Ponderosa Homes, located at 2157 Cameron Circle, Pleasanton, (925) 399-5798, during business hours (Thurs –  Sun, 10am –  5pm and Mon, 2 –  5pm) and you will be entered in the lottery for Phase I. Registration for Phase I will end on Friday, January 16 at 4pm.
1521 Morning Glory Circle
Livermore, CA 94551
To make sure you're always in the loop and up to date with everything happening in your community, be sure to LIKE the Ponderosa Facebook page.